Here's a little taste of where I got my inspiration to celebrate this August! We have many different celebrations in less than two weeks.
I use the internet to get all my ideas and I want to share some of my favs...I will be posting more specifics as soon as our August celebrations are over. 8 parties in 8 days! I am going to be tired, but I will have tons to share soon!
hiddencupcakes.com
Not only is Tracey a great friend of mine, but she is an awesome party plannner. Martha has nothing on her!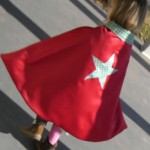 thelongthread.com
I found a very easy sewing tutorial for super hero capes to give away! But she has many other diy ideas that are so cute and I can't wait to try!
Photo booth idea didn't really work out for our party but check out
Hip Hip Hoorey
for much more!
Birthdays aren't the only things I have going on...baby shower!
So I went to
Martha
for a little inspiration.
Love inspirations!
Stay tuned for all of these ideas put into action. Three parties down...five to go!